Greetings VA-Gold prospectors,
Well, it's been a LONG time in the making..........but I finished my home made 2-cycle gas vacuum yesterday!
Was a Weed Eater Featherlite 1500 leaf blower I got at a garage sale for $5, now a gold hunting machine!
The plan is to ship it to myself in Colorado, and I will use it end of June to get that last 5% to 10% of the gold bearing material out of the cracks, crevices & jagged bedrock areas in my favorite dry gulch I always leave behind. I will be taking my crevice tools and hand picks, and am very curious to know if there's gold that I have been missing all these years, by simply being unable to "suck" the last bit of dirt up in the cracks, as I brush & sweep the bedrock as best I could.
Cost me a little over $50 to make. Took me two 1/2 days in the garage playing with it, once I had the bucket, hoses and gumption to get it all together. The hardest part was adapting the blower onto the lid....go figure.
Had it all built, and fired it up, and it wouldn't "suck" at all, at first.
What the heck?? After some tinkering and problem solving, realized the standard 1 1/4 inch black plastic hose I was using was so small, that it starved the air flow, causing the impellers to stall. I thought it would restrict the air flow nicely, causing trememdous suction, but just the opposite with the straight impeller design of the leaf blower.
So, one more trip to Lowes, got a 2 1/2 inch 8 foot replacement hose and nozzle, biggest I could find for cheap, and wallah, it started flowing air & sucking real good! Have to keep it revved up.
Here's a short video of my demo on YouTube:
http://www.youtube.com/watch?v=b4AKvqCkz2E
Here's two pictures all assembled: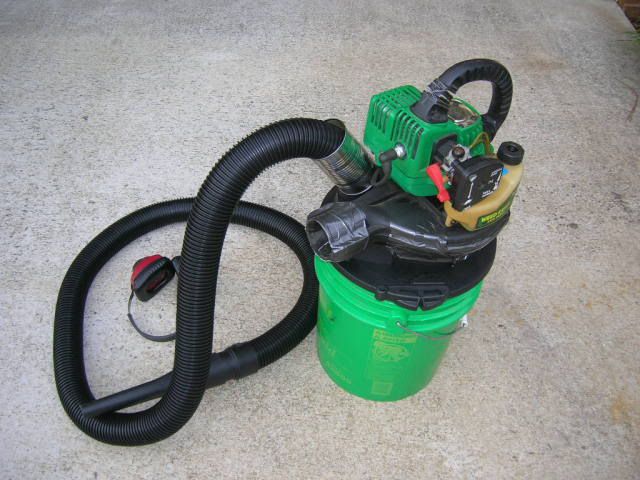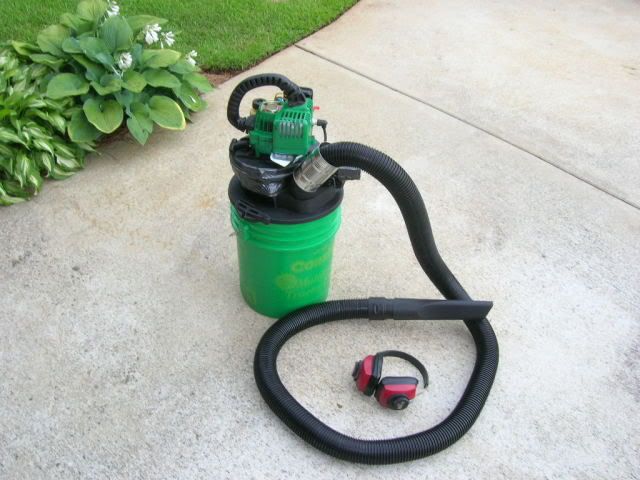 So, project complete.........now for field testing and see if it can pay for itself!! Wish me luck.
Randy "C-17A"
www.goldadventures.biz